Road
The product range designed for road going vehicles is the result of nearly 45 years research and development.
As a specialist manufacturer of vehicle hoisting, SEFAC offers a large variety of equipment that can be used around your vehicle lifts. This range includes stands and trestles but also transmission jacks, hydraulic wheel dollies and cleaning equipment.
SEFAC is the specialist of lifting solutions dedicated to heavy vehicles like trucks, busses, coaches, civil works vehicles, etc.
From bus and coaches lifting solutions to vehicle stands, all SEFAC products are dedicated to heavy duty workshops. Our R&D Department is working hard to make lifting for vehicles easier. Some heavy duty workshop equipment, like the S3 mobile column lifts, are thus a concentrate of technology and have been the origin of numerous patents.
Maintenance and lifting equipment for Heavy Duty vehicles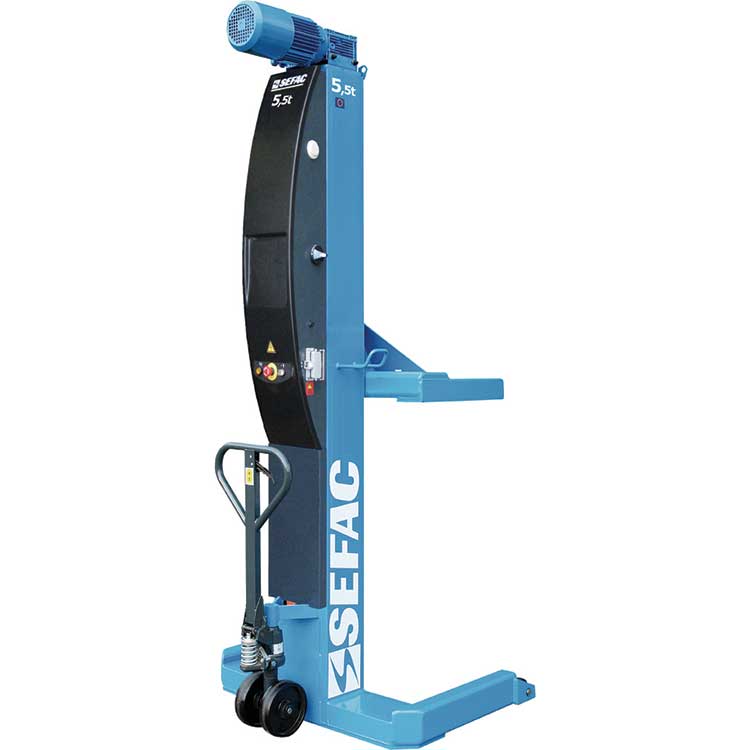 Mobile column lifts for standard vehicles
Mobile column lifts for standard vehicles
SEFAC USA offers a large choice of mobile columns to lift the most common vehicles of your fleet. These columns differ by their lifting capacities as well as by their technologies. The ideal solution for truck workshops and heavy duty lifting Mobile column lifts offer flexibility and security to the mechanic. Also, physical stresses are reduced to the minimum for him. Mobile truck lifts are more cost-effective than workshop pits or scissor lifts. Axle stands namely allow the utilization of mobile column lifts on another vehicle and thus double your lifting capacity. When not in function, column lifts can be stored in a corner of the workshop. Wireless or wired: make your choice! SEFAC USA continues to offer SEFAC® mobile column lifts for heavy duty vehicles. These heavy duty lifts can be wireless (SW3*) or wired (S1*, S2* or S3*). The SW3* wireless version is the most flexible solution of our range. Wireless column lifts are operating with batteries and are synchronized thanks to a patented wireless communication protocol. These column lifts can be used everywhere (indoor and outdoor) as long as the floor is appropriate. Wired version is particularly adapted if it is not required to move the column lifts in the workshop. Thus, the S1* (more for buses, coaches and HD trucks) or the S2* (more for civil works vehicles, airport vehicles and garbage trucks) can be sufficient.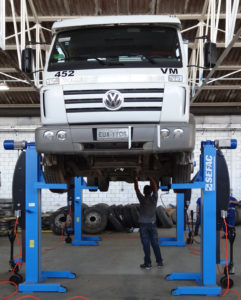 Floor transmission jacks
Floor transmission jacks
Floor jacks are used in addition to lifting equipment (i.e.: mobile column lifts). Equipped with wheels, you will be able to easily move mechanical parts inside your pit or in your workshop, since these products are also suitable for applications outside a pit. Developed for maintenance operations under lifting equipment, the DF. 6115 offer a real stability thanks to their wheel base and their large piston diameter. The swivel head will allow you to move the assembly you are working on in the three directions. You can be sure to have the better ergonomic conditions.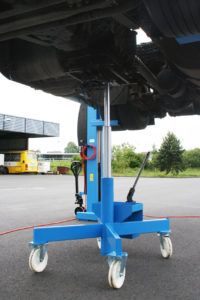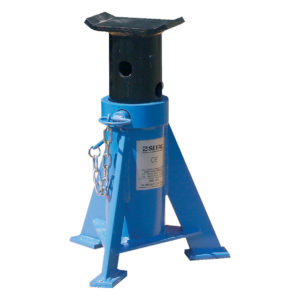 Axle stands
Axle stands
Depending on whether you just would like to lift a vehicle by an axle during the change of a wheel or keep a complete vehicle on a set of 4 stands 6 feet above the ground, SEFAC offers a large choice of stands adapted to your needs. Meanwhile, you can use your mobile column lifts for an another vehicle.