info@sefacusa.com
News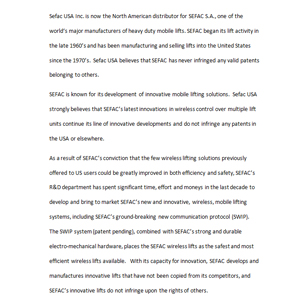 Sefac USA Inc. is now the North American distributor for SEFAC S.A., one of the world's major manufacturers of heavy duty mobile lifts. SEFAC began its lift activity in the late 1960's and has been manufacturing and selling lifts into the United States since the 1970's. Sefac USA believes that SEFAC has never infringed any valid patents belonging to others.
SEFAC is known for its development of innovative mobile lifting solutions. Sefac USA strongly believes that SEFAC's latest innovations in wireless control over multiple lift units continue its line of innovative developments and do not infringe any patents in the USA or elsewhere.
As a result of SEFAC's conviction that the few wireless lifting solutions previously offered to US users could be greatly improved in both efficiency and safety, SEFAC's R&D department has spent significant time, effort and moneys in the last decade to develop and bring to market SEFAC's new and innovative, wireless, mobile lifting systems, including SEFAC's ground-breaking new communication protocol (SWIP). The SWIP system (patent pending), combined with SEFAC's strong and durable electro-mechanical hardware, places the SEFAC wireless lifts as the safest and most efficient wireless lifts available. With its capacity for innovation, SEFAC develops and manufactures innovative lifts that have not been copied from its competitors, and SEFAC's innovative lifts do not infringe upon the rights of others.
---