info@sefacusa.com
Onsite servicing call
To ensure that your equipment will pass the annual certification audit without trouble, SEFAC recommends performing preventative maintenance operations: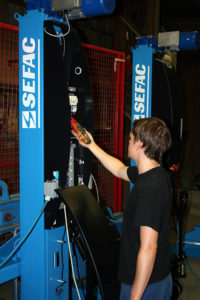 Making an appointment
At any time, you may ask Sefac to perform a preventative maintenance call. It is in your interest to arrange for this call prior to the visit by official auditing agency. In that way you will avoid the cost of a possible second inspection by the agency.
Technician's recommendation
Following the appointment being made, the technician will go onsite to your workshop and will issue a recommendation for the column lift.
Submitting a detailed, costed proposal
The proposal will list two sets of operations to be performed:
– Those that are imperative, and therefore compulsory
– Those that are optional, and therefore recommended
Performing the maintenance
Following approval of one or both parts of the order, the technician will perform the maintenance operations. Some operations may be carried out immediately if the technician has the spare parts in his vehicle.
Documents
Once the operation is complete, SEFAC will give you a servicing report slip listing the detail of operations performed by the technician on the equipment.
Please note that if you sign a service contract, you will be entitled to a 20% discount on spare parts or a two-year extension on the warranty for new equipment.