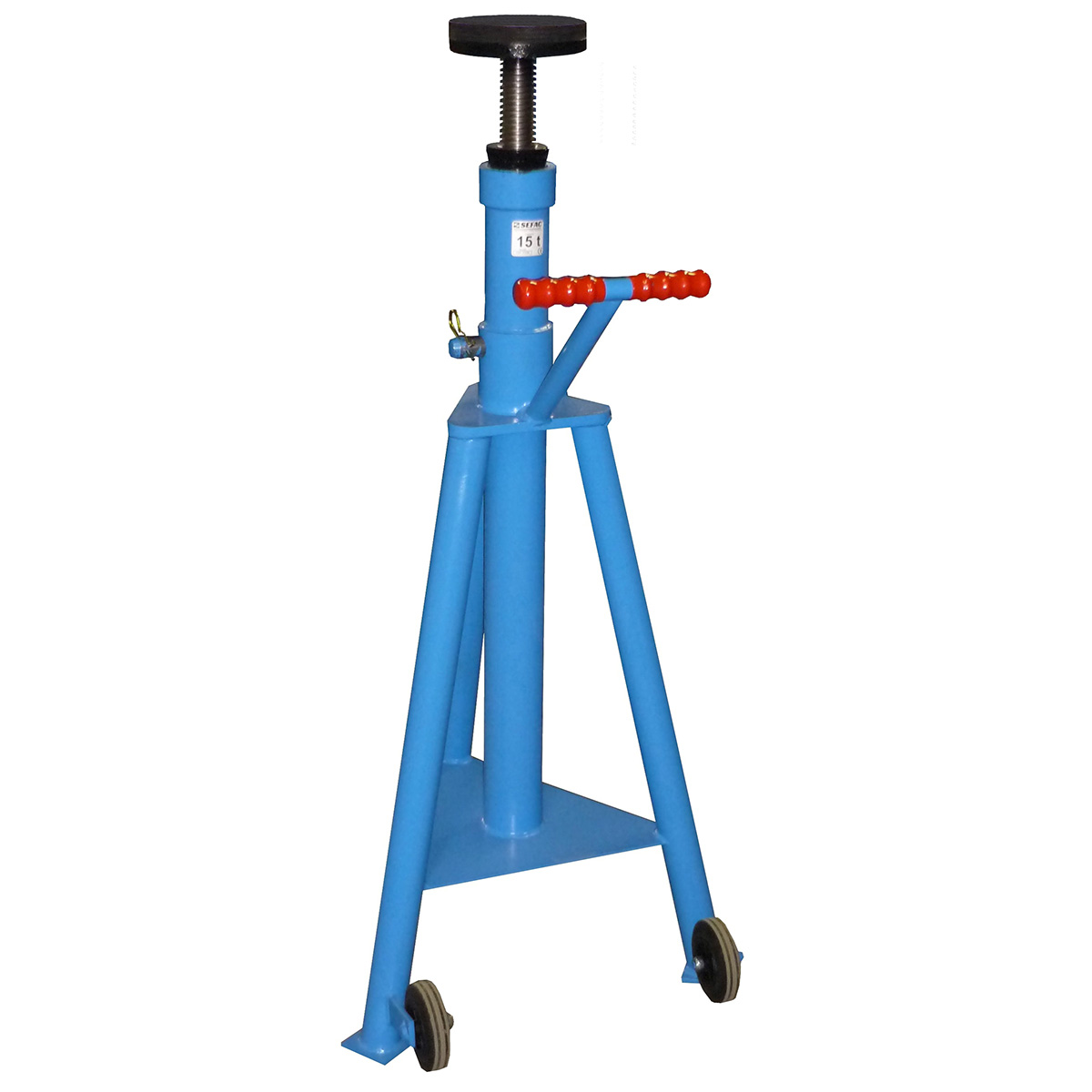 TBP 530R axle stand
The SEFAC TBP 530R axle stand belongs to the high-position range. It is equipped with wheels and a handgrip to facilitate movement in the workshop.
An axle stand for commercial vehicles
With a unit capacity of 33,000 lbs, this stand is designed to maintain commercial vehicles in a high position (51.00 – 78.50 in).
The three-legged stand guarantees stability, despite an uneven garage floor.
An ergonomic axle stand
The TBP 530R axle stand is also fitted with an internal spring mechanism that makes it considerably easier to adjust the height and set the slide pin position. A single operator can adjust the stand. The spring also reduces the risk of pinching or crushing fingers in the event the slide falls during positioning.
Lastly, this axle stand has a screw-type head/top enabling accurate adjustment up to 5.90 in and locking at the desired height. From an ergonomic standpoint, this adjustable head/top provides additional ease of use.
An axle stand is indispensable for your safety
For safety reasons, the use of axle stands is strongly recommended in addition to hydraulic lifting equipment, which presents the risk of slow leaks.
NOTE: There is no risk of an accidental descent when you use an electromechanical system such as a SEFAC column lift.
Feature
TBP 530R*
stand
Capacity
lbs
33,000
Min. height
inch
51.00
Max. height
inch
78.50
Width
inch
-
Stroke
inch
27.50
Positions
10
Weight
lbs
119
*: The TBP 530R stand is spring loaded assisted for easier use and screw type top for accurate adjustment (stroke: 6 inch, diam.: 7.5 inch).